Introducing Ishiyama Sushi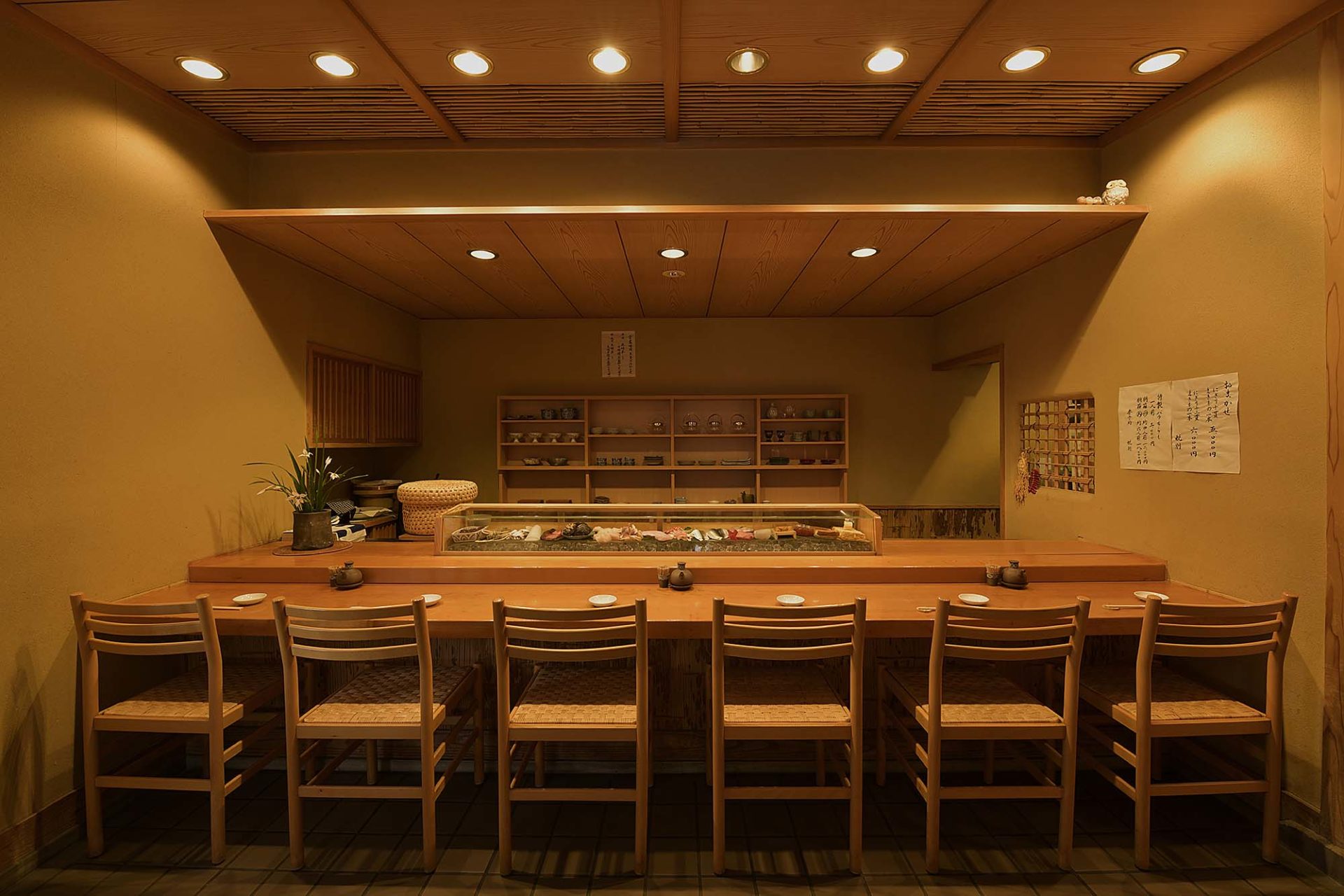 Sushi rice (nigiri) is another essential aspect of sushi production which we take seriously, gently aerating the rice just enough to maintain a firmness that melts in the mouth. An authentic sushi experience can never be created without the meticulous work of a highly skilled sushi chef, and we sincerely hope you enjoy your dining experience with us.
We put our heart into everything at Ishiyama Sushi, from the food to your dining experience. We hope that you join us for a truly memorable meal.
Ishiyama Sushi is located in Tokamachi, a cozy little corner hidden away from the bustle of the city.
With a wonderfully relaxed ambience, please enjoy our quality Edomae style traditional sushi and fine cuisine featuring carefully selected, seasonal ingredients.
Having trained and worked at the Michelin Bib Gourmand sushi restaurant, Kobanzushi in Sendai, Chef Tadashi Ishiyama brings his superior talents and experiences to the table at Ishiyama Sushi.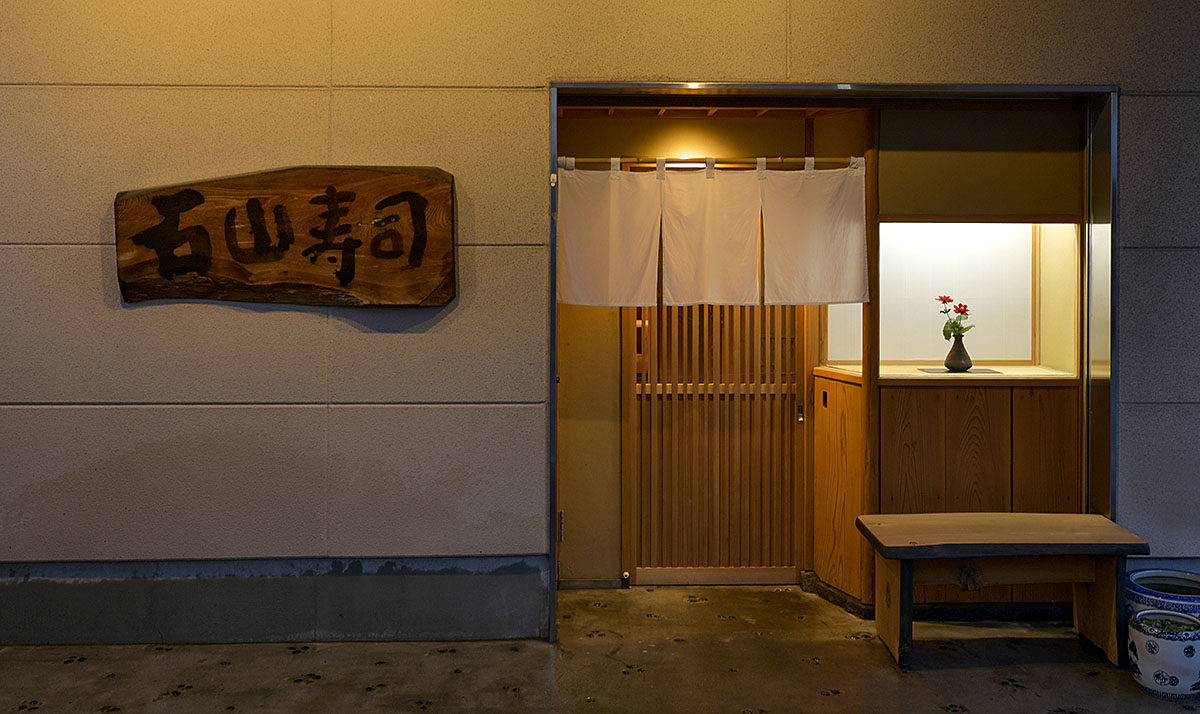 Edomae sushi, mainly nigiri-sushi (sushi shaped by hand), is a local cuisine of Tokyo (the city was once called Edo), and features the fresh and abundant seafood of Edo Bay.
A variety of methods are employed for Edomae sushi, including curing in salt and vinegar, steaming, simmering in a broth, applying nikiri or tsume sauce, and marinating in soy sauce.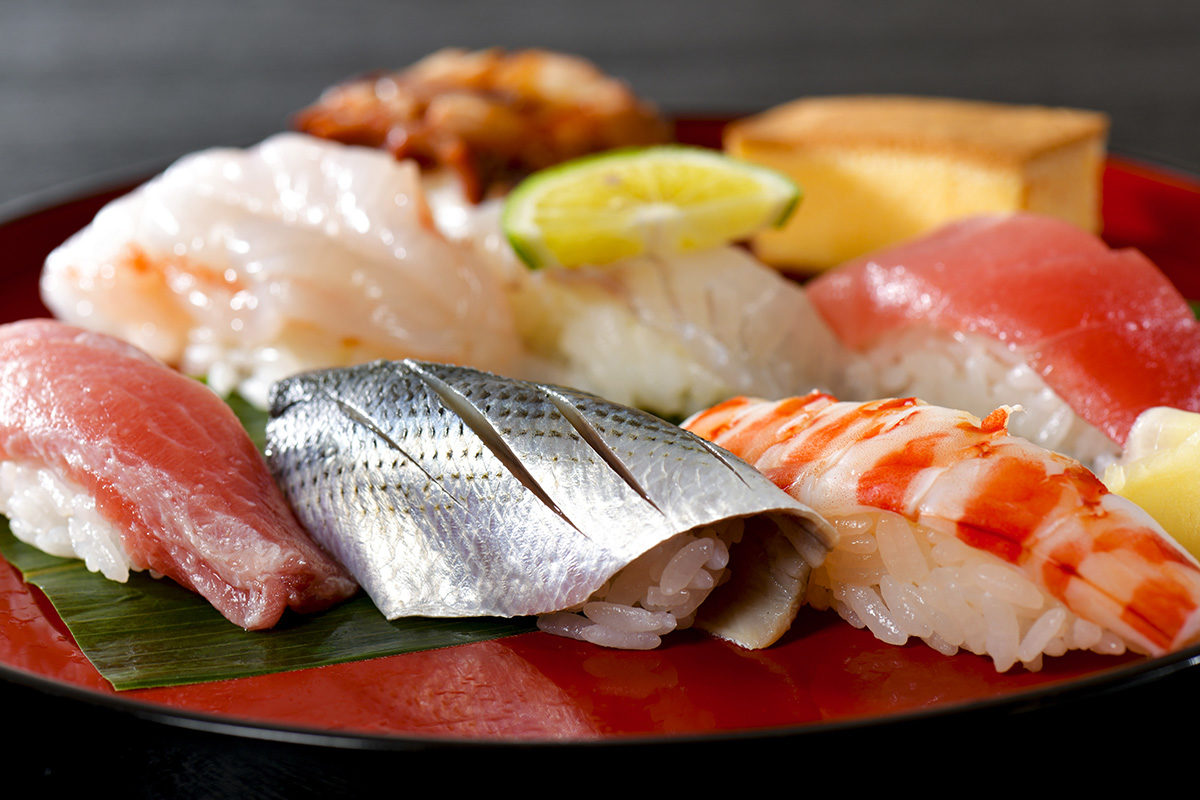 In old times prior to modern transportation and refrigeration, Edomae sushi was also referred to as Edozushi or Tokyozushi, and used the above methods to prevent seafood from spoiling or losing its flavor.
By utilizing the wisdom of these innovative ideas, Edomae techniques (shigoto) not only preserved seafood, but they revealed new and complex umami flavors that would continue to be developed by the ingenuity of sushi masters. This is how Edomae sushi came to be.
Enjoy excellent, high quality sushi year around
Fresh ingredients follow the seasons, and our menu often changes, reflecting the time of year and the weather. Regardless of when you visit, you'll always get to taste the best of the day's catch. And every day, we meticulously choose and purchase our ingredients with an eye on producing superior sushi items for our customer.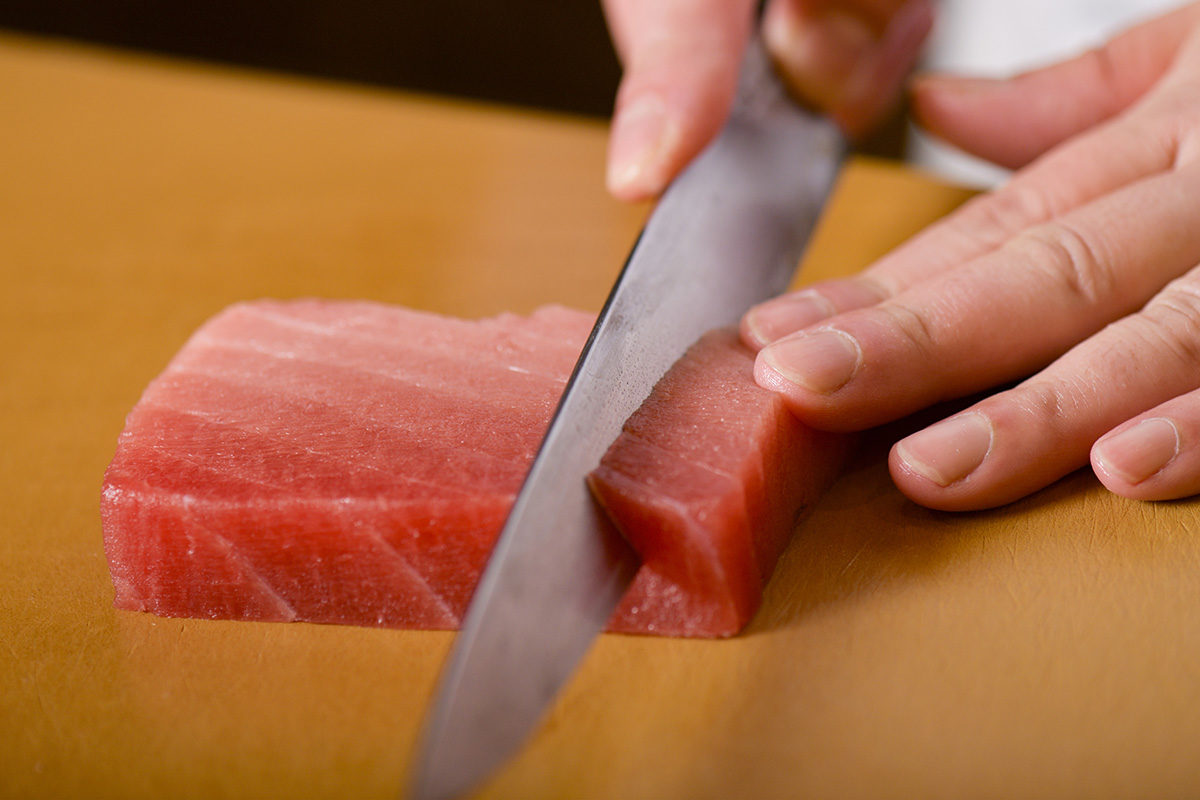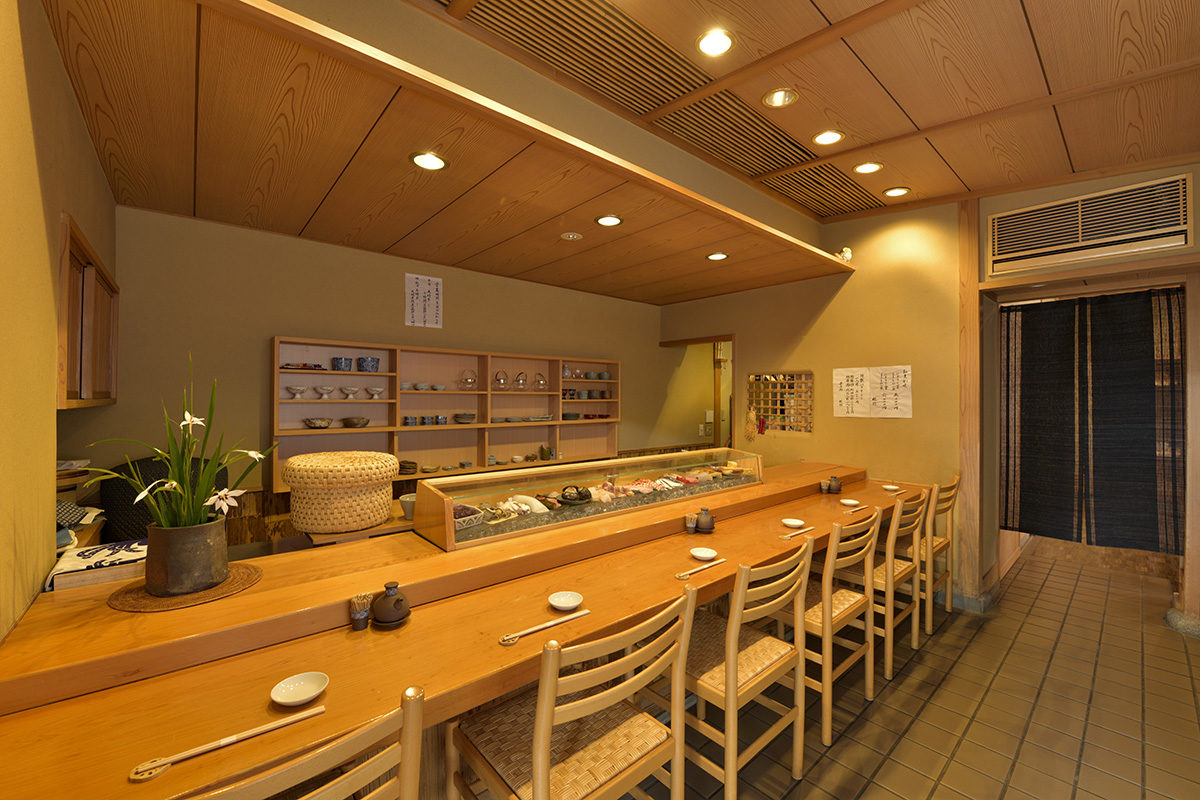 Try our counter seats to see your sushi creations being made
Sitting at one of our counter seats, you'll get a full view of all our beautiful ingredients, ice-chilled and displayed in a plain wood case that lines the bar. Watching in anticipation as your chef hand-makes each item is a wonderful experience in itself.
Table seats and zashiki (tatami-matted room) make for a relaxing repast.
We have Japanese-style tables and a semi-private space as well. These areas offer traditional seating accommodation, perfect for a relaxing, intimate meal with friends, family, or someone special.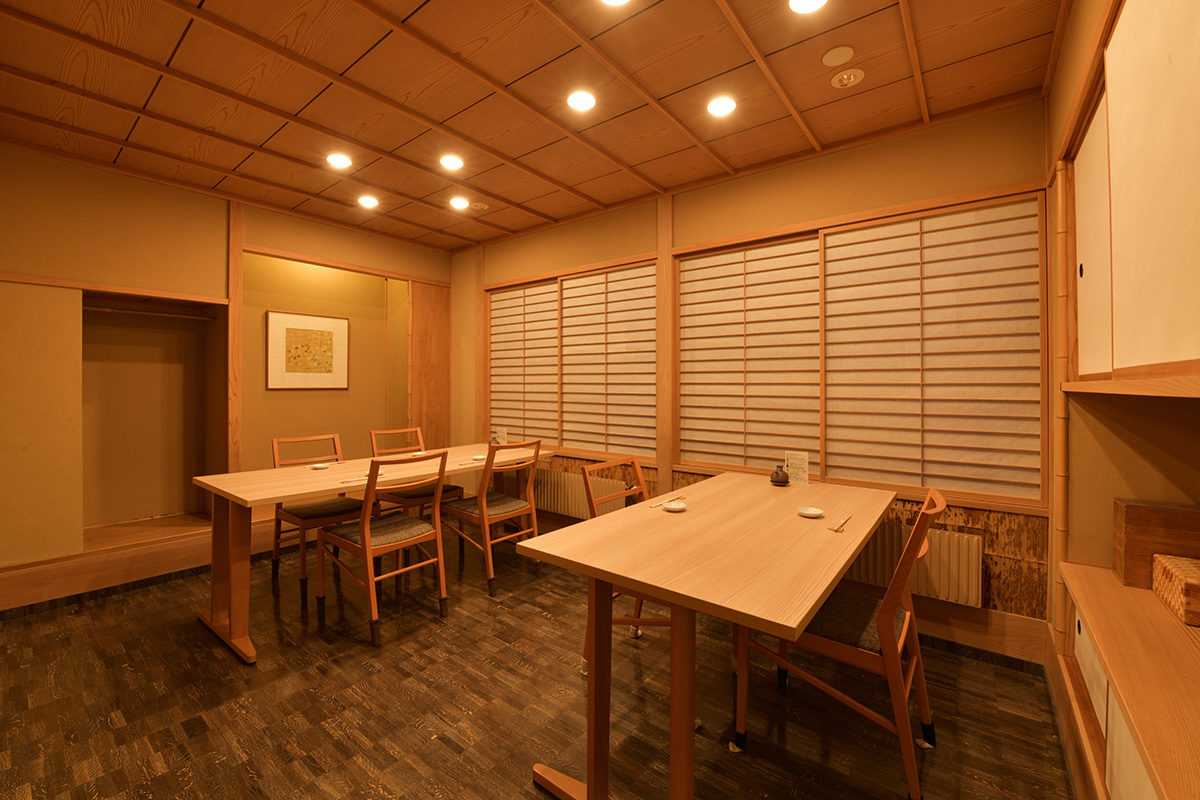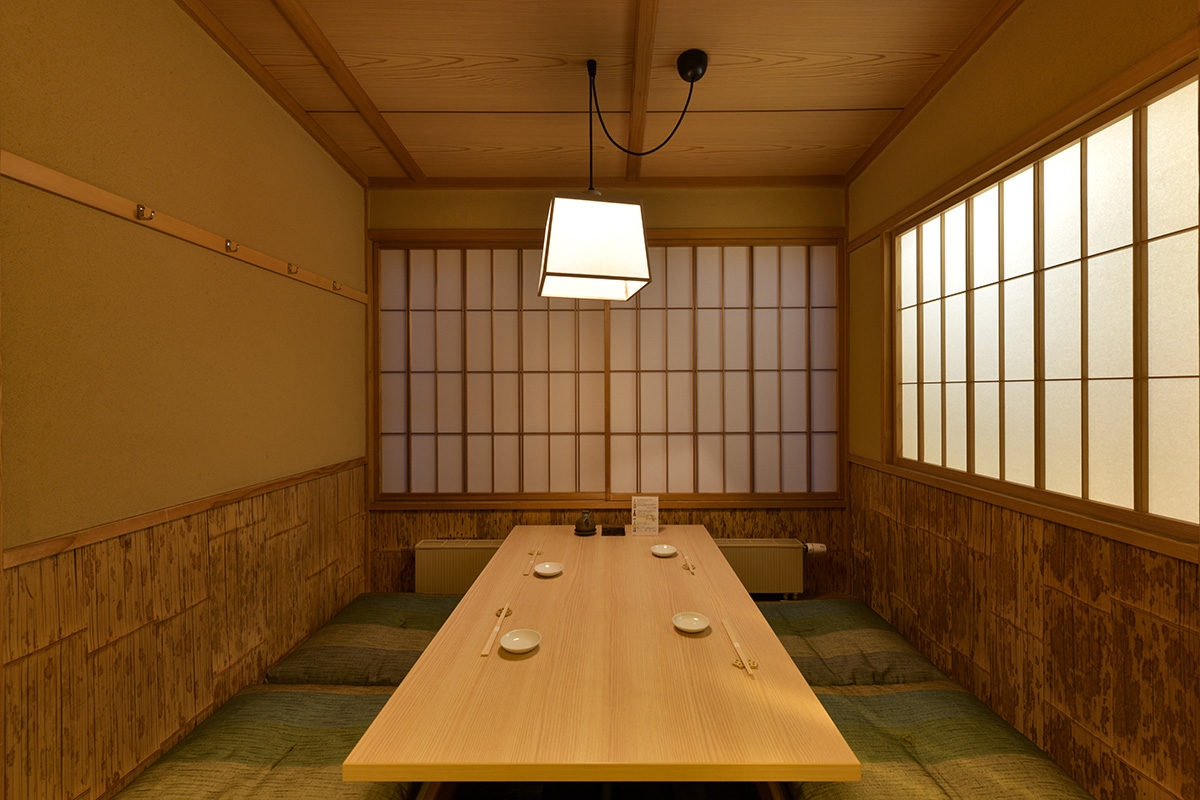 Special Courses Featuring Seasonal Ingredients
These courses are recommended to first-time visitors as a great introduction to Ishiyama Sushi.
We hope you enjoy our seasonal Nabe (Japanese style hot pot) and various sushi delights.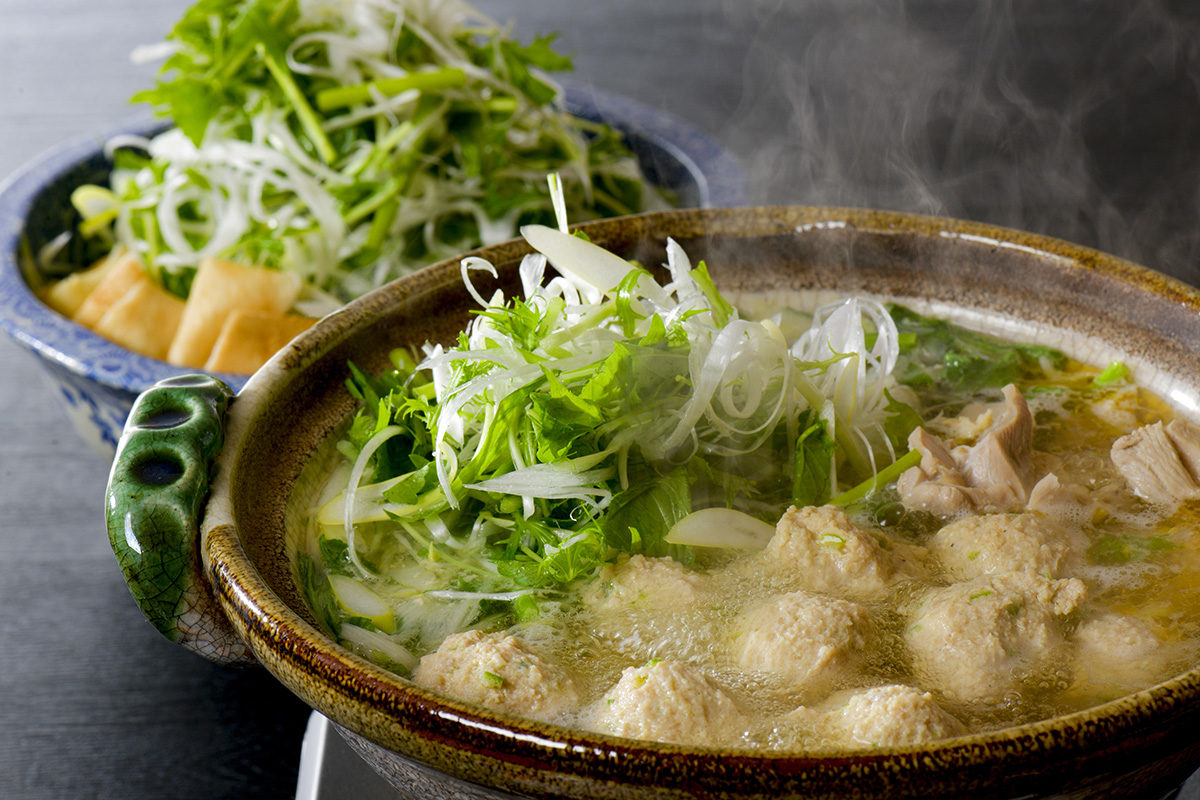 Fluffy Tsumire Nabe Course
From 2 to 10 people  One day prior reservation required
¥7,500 per person
[ Kobachi Appetizer, Fluffy Tsumire Nabe, 7 pieces of Nigiri, 1 Roll ]
A hot pot features Tsumire Meatballs made of ground "Gokoku Ajidori" brand chicken, and our secret recipe to makes them wonderfully light and tender. This rich and textured hot pot is melt-in-your-mouth delicious.
* ¥3,500 per person for Tsumire Nabe only  From 2 people
Seasonal Limited:


Superior Kinmedai Shabu-shabu Course
From 2 to 10 people  3 day prior reservation required
¥10,000 per person
[ Kobachi Appetizer, Kinmedai Shabu-shabu, 7 pieces of Nigiri, 1 Roll ]
Please try Kinmedai (a delicious seasonal fish also known as "alfonso") as Shabu-shabu. You'll appreciate its elegant taste and silky-smooth texture.
* Market price for Kinmedai Shabu-shabu only.  From 2 people.
* This shabu-shabu is available in the winter season, usually from mid-November.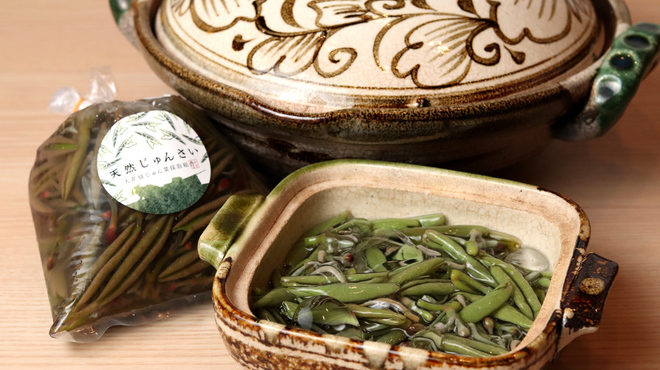 Limited in Early Summer:
Junsai Nabe Course
From mid-June to late-July
From 2 to 10 people  3 day prior reservation required
¥8,500 per person 
[ Kobachi Appetizer, Junsai Nabe, 7 pieces of Nigiri, 1 Roll ]
Junsai is a kind of water plant that only grows in ponds with premium water quality. The buds are coated in a curious gelatinous substance, and it has been considered a delicacy in Japan since ancient times. We use Junsai from Murayama-shi, Yamagata, and you can nearly taste the freshness of early summer in every bite.
*We also use Junsai from nearby Akita when the Yamagata crop is unavailable.
*¥4,500 per person for Tsumire Nabe only  From 2 people.
Sushi
Premium Chef's Omakase Course
This special course presents the best seafood the season has to offer, crafted by a sushi master.
Leave it to our chef to select the best combination of appetizers, sushi and soup of the day.
This course is ideal if you are interested in trying a variety of delicacies, and especially recommended for first-time visitors.
4 to 5 appetizers, sushi and soup.
Reservation is required.
¥12,000
Omakase Nigiri Course
Available either at the counter or table seating.
¥6,600
13 pieces of Nigiri, 1 Roll
 ¥5,500
10 pieces of Nigiri, 1 Roll
¥3,850
Available only at table seating.

7 pieces of Nigiri, 1 Roll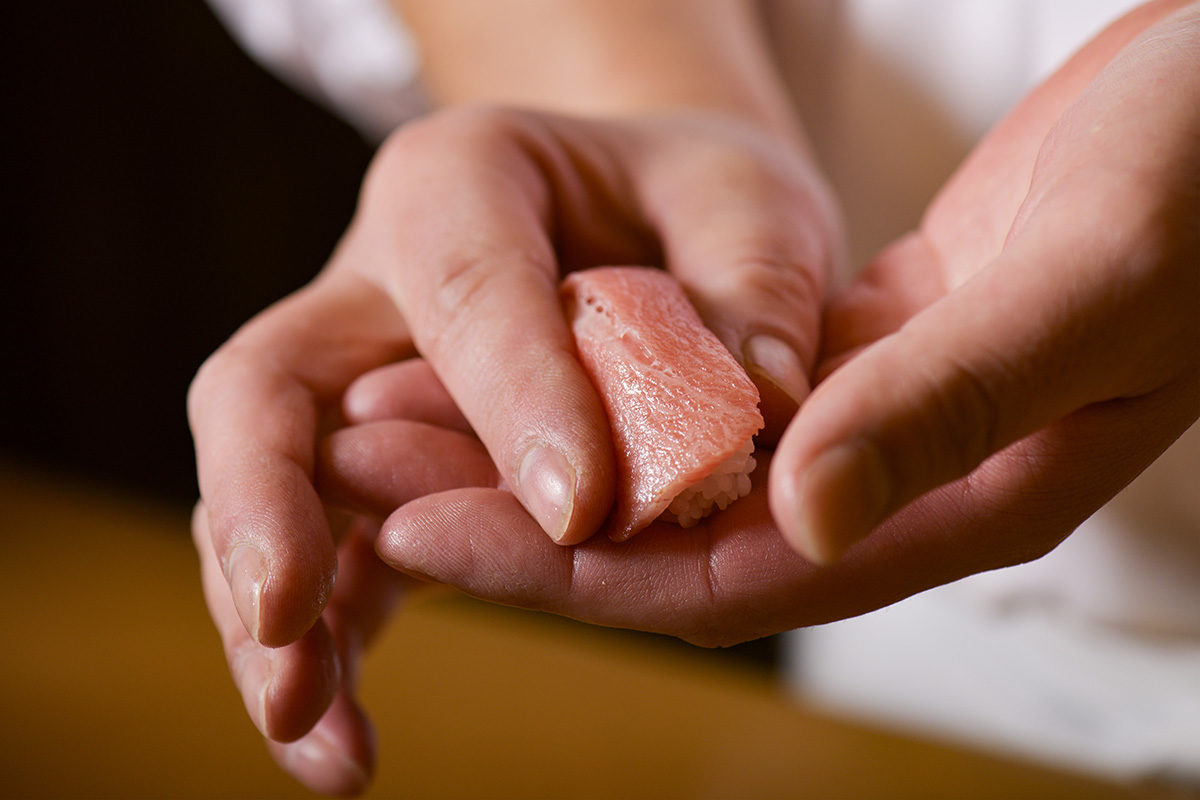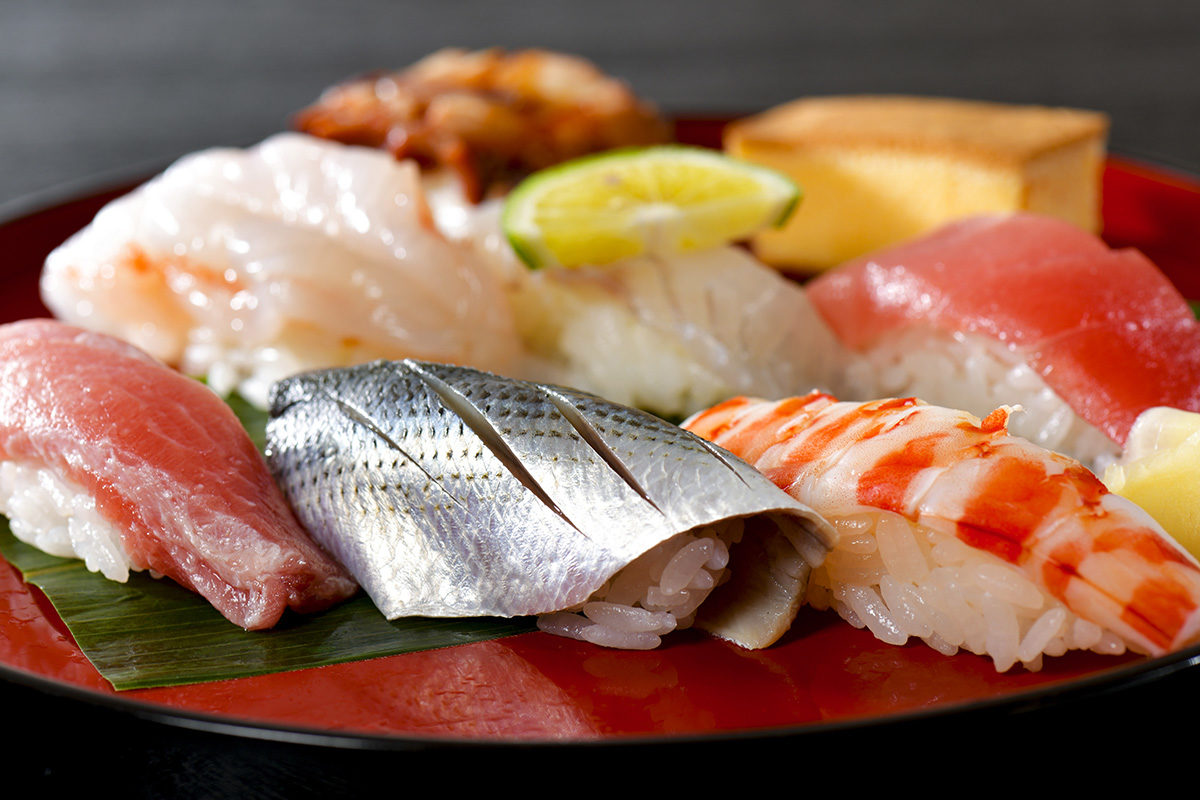 Sake and Shochu
Our sake and shochu menu has been hand-selected to pair well with sushi, including sake brewed in Yamagata.
Sake
≪冷酒≫ 上喜元 特別純米
(Chilled) Jokigen Tokubetsu Junmai
Yamagata Sakata-shuzo
Glass ¥850
≪冷酒≫ 東北泉 特別純米
(Chilled) Tohoku Izumi Tokubetsu Junmai
Yamagata Takahashi-shuzo
Glass ¥850
≪冷酒≫ 澤乃泉 特別純米
(Chilled) Sawanoizumi Tokubetsu Junmai
Miyagi Ishikoshi-jozo
Glass ¥850
Shochu
麦 中々
Nakanaka (Barley shochu)
Miyazaki  Kuroki-honten
Glass ¥880   Bottle ¥440
芋 山ねこ
Yamaneko (Sweet potato shochu)
Miyazaki Osuzuyama-joryusho
Glass ¥880   Bottle ¥440
米 山翡翠
Yamasemi (Rice shochu)
Miyazaki Osuzuyama-joryusho
Glass ¥880   Bottle ¥440
麦 百年の孤独
Hyakunen no Kodoku (Barley shochu)
Miyazaki  Kuroki-honten
Glass ¥880   Bottle ¥440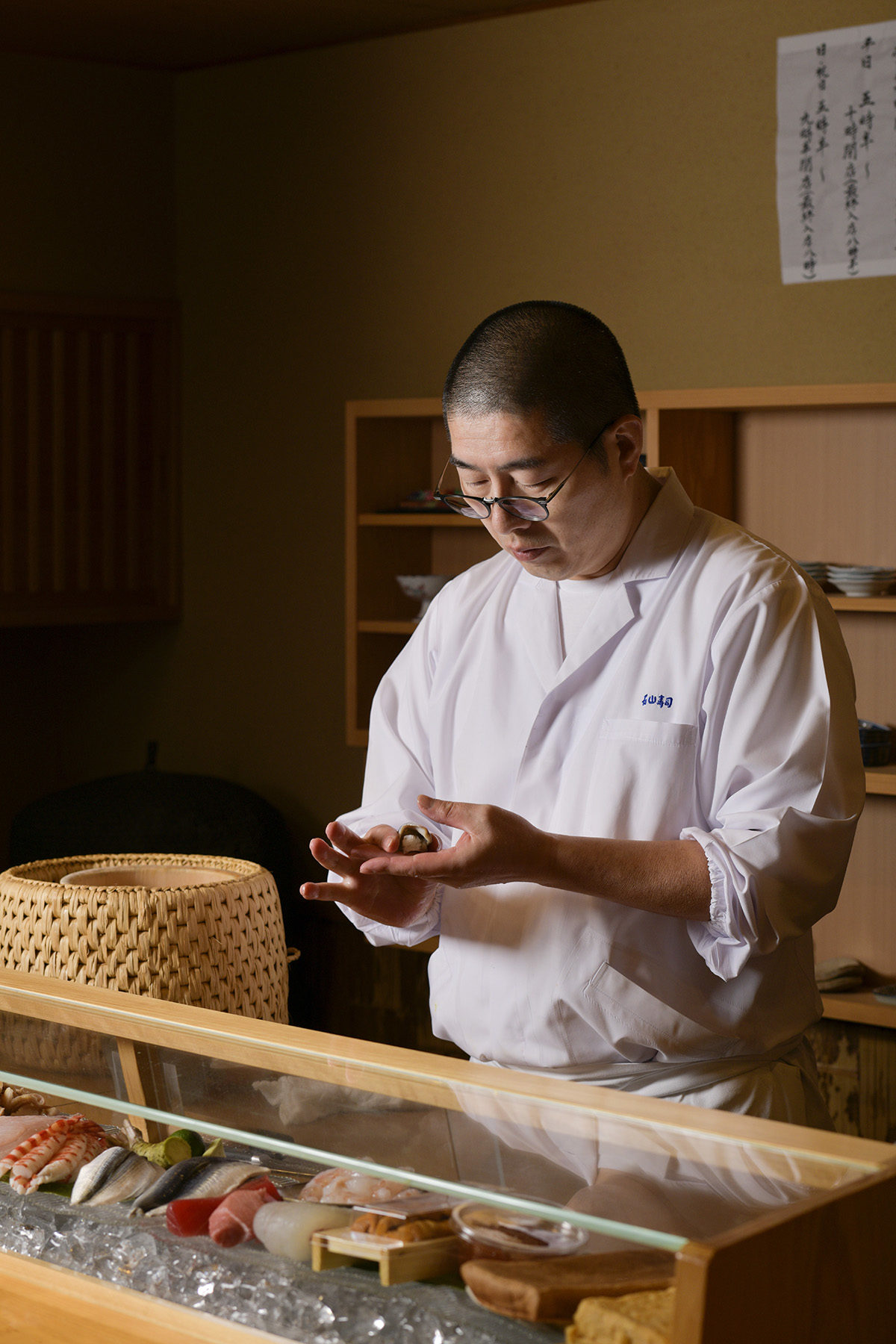 Greetings
Thank you very much for visiting Ishiyama Sushi online.
In my work as a sushi chef, I'm always focused on bringing out the full potential of each ingredient. I devote myself daily to the age-old methods of sushi creation, and in doing so, put my heart into every piece. 
We strive to satisfy our guests and offer a traditional Ometenashi-style hospitality that makes for a memorable experience.
Name
ISHIYAMA SUSHI
Address

3-9-28, Tokamachi, Yamagata-shi, Yamagata.

Phone
023-631-9559
Open

Weekdays 17:30-22:00 (Doors close at 20:30)




Sundays and holidays 17:30-21:30 (Doors close at 20:00)




*

We may request that you to come after 18:00, in the event that you made a reservation on the day.
* Please refrain from the use of an excessive perfume as it may disturb other guests.


* We welcome wheelchair-users, however, it may be difficult to access our bathroom depending on the size of the wheelchair. We apologize in advance for the inconvenience.

Closed

Wednesdays

Access
Access from Yamagata Station
Walk: Go east on the main street. Turn right at the corner of Hotel Castle, then turn left on the third signal.  Walk about 250m, and you will reach our shop.
By taxi: About 5 min.


Seats
The whole restaurant can be reserved up to 20 people.
Total of 20 seats (6 counter seats and 2-10 table seats)Semi-private rooms are available.


Table for 4 ,

Table for 6 ,

2 tables


Whole areas within the semi-private room can be reserved for up to 10 people.

Payment

Only cash and credit cards are accepted.
Non smoking   Free Wi-Fi available
Consumption tax of 10% will be added to the bill.